A Day of Delivering Meals and Hope
Children who can't touch their parents, a single mother making do, seniors worried about the virus: What's behind the doors as two Salvation Army officers make their rounds.

for the New York Times - By Amelia Nierenberg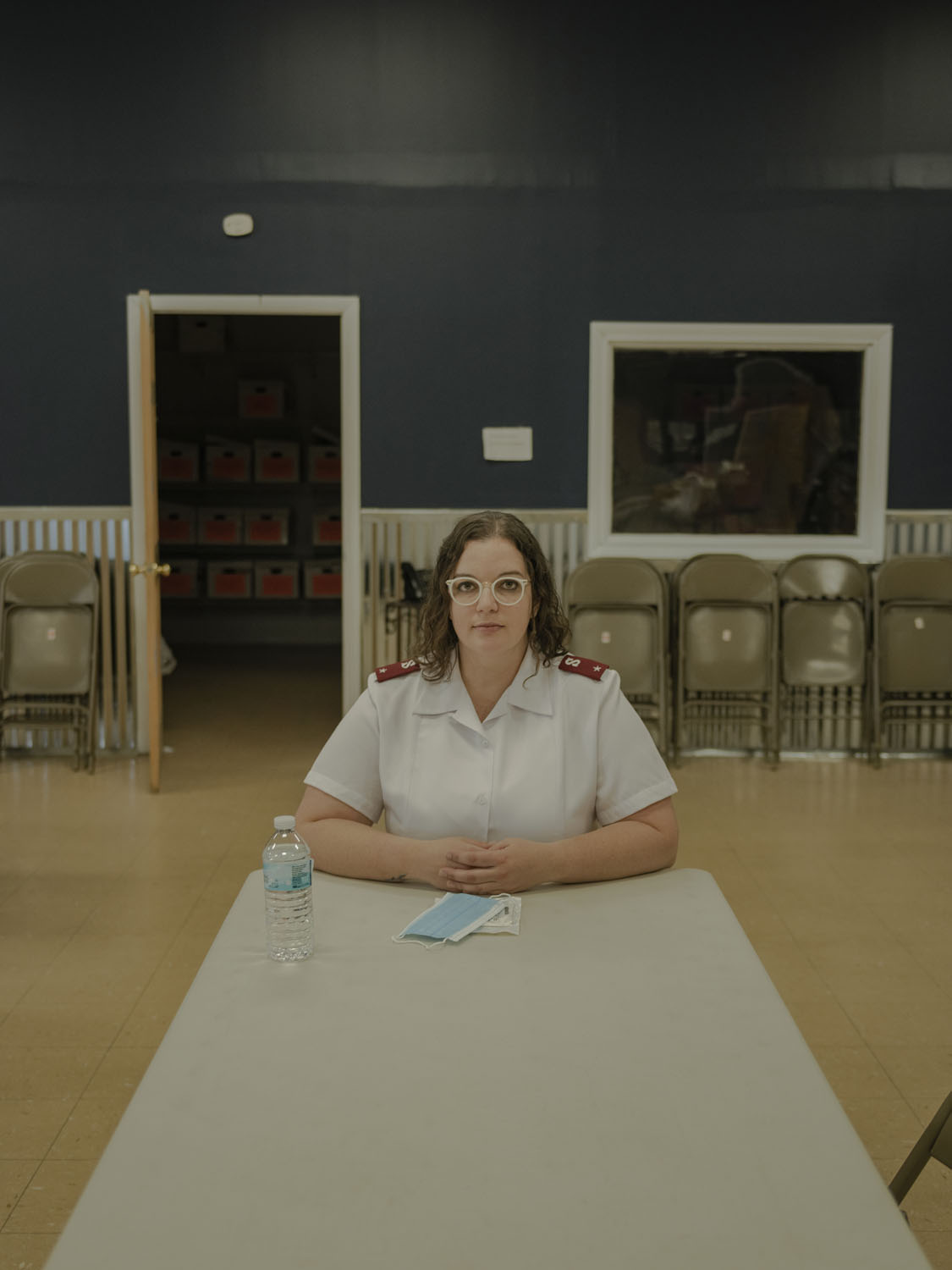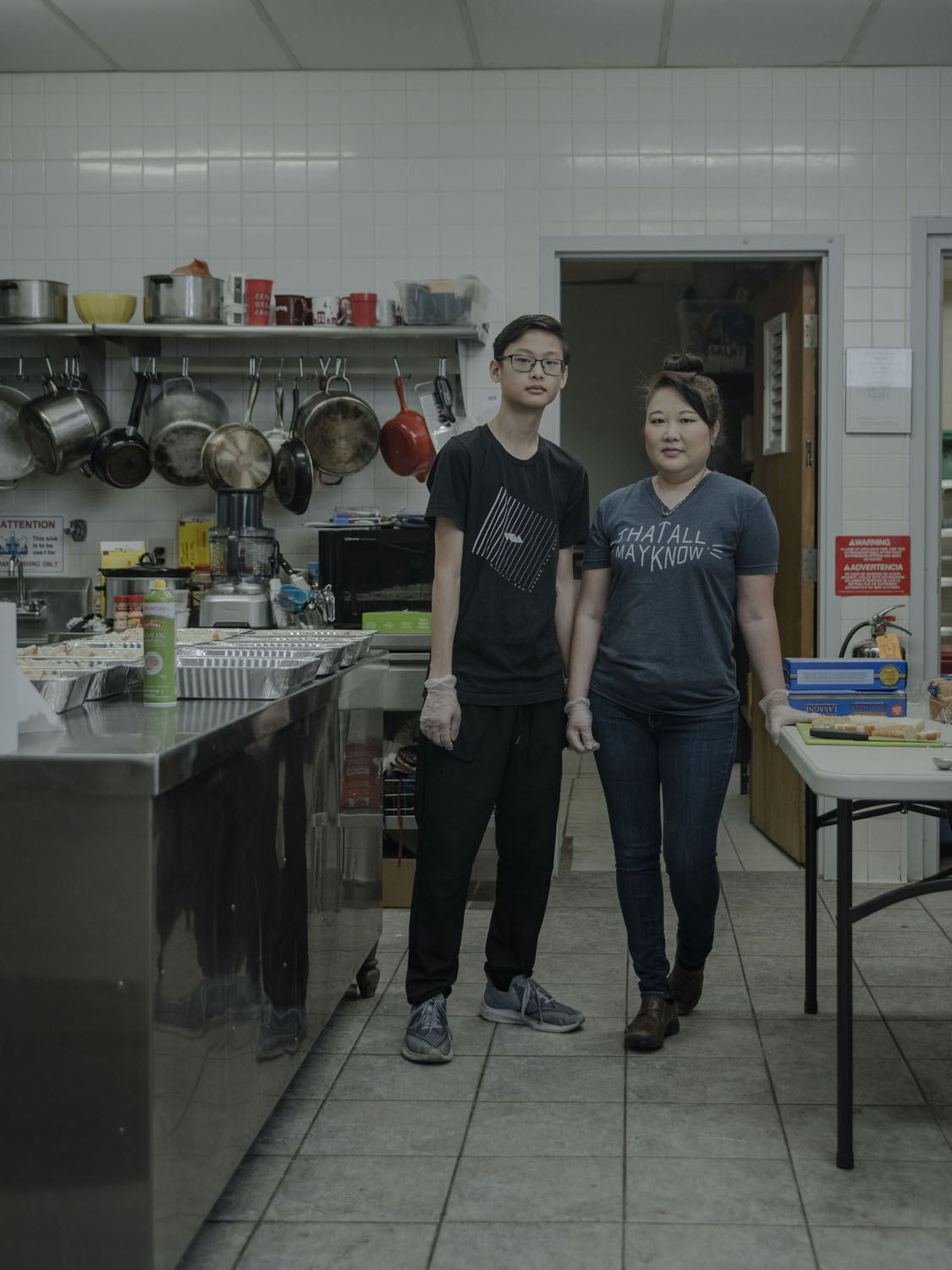 SARATOGA SPRINGS, N.Y. — Traffic lights signal to empty streets. Parks are deserted, except for the squirrels. And no one knows for sure whether this city's famed racecourse will open this year.
But on Monday morning, as a hard rain pelted the windows, the main room of the Salvation Army building downtown was bustling with volunteers and staff who filled boxes with canned food and fresh produce.
Before the coronavirus, the room was a dining hall where hungry people came for hot meals. But since March and the statewide order to stay home, the Salvation Army has been delivering food door to door instead.
"That first week, honestly, we were just running," said Bree Barker, 32, a lieutenant with
the Saratoga Springs
chapter. Her Australian accent has been softened by more than a decade in the United States. "We popped out as much food as we could."
Some food banks in the area have closed, shortened their hours or offer food only at a drive-through. But in this small upstate city, some residents don't have cars. So instead of giving each family the usual nine meals a month, this chapter is delivering them at least nine meals a week. The number of households served jumped to 331 in March, from about 100 before the crisis, Lt. Barker said.
Their packing done, she and another lieutenant, Trisha Smouse, 40, loaded the boxes into the back of a white van and set off for the day's rounds: five homes, each offering a different glimpse of the wide spectrum of need.
Helen Winchip, in the window, is the main caretaker of her five grandchildren, ages 5 to 16. On visits, her daughter Christine, right, and Christine's partner, Gary Green, left, talk to their children through the window.
As the women pulled up for their first delivery, four children spilled out of a screen door to greet them. "Bree!" cried Cheyenne Winchip-Green, 6, running forward for a hug.
Lt. Barker turned, extending her arm. "Let's say, 'Hi' like this instead," she said as they bumped elbows. She knows the family well. Both lieutenants are ordained ministers and serve unofficially as therapists, listening ears, homework tutors, mentors, movers and real-estate agents for the people they visit.
The children's grandmother, Helen Winchip, stood framed in the door. A lung cancer survivor with chronic obstructive pulmonary disease, or C.O.P.D., she knows that the coronavirus could be a death sentence. And although she shares custody of her five grandchildren, ages 5 to 16, with her daughter, she is the main caretaker. Even a trip to the hospital would mean leaving the children with yet another interruption in their home life.
I don't want to get sick, I don't want to die," she said. "That's my biggest fear. I have to stay healthy for them."
The children's school bus now delivers the breakfasts and lunches they would have eaten between classes. Their parents, Christine Winchip and Gary Green, also bring groceries whenever they can. They stand outside, talking to the family through a first-floor window. When it's time to leave, the children sometimes plead with their mother to come inside and play.
"My kids yell, 'Don't go, Mom, don't go!' " said Ms. Winchip, 37. "But I have to. I have to walk away," for the sake of her own mother. She paused, wiping her eyes. "If I can protect her from what's going on out here, it's the best way I know how to protect them."
Seiamari Utsey, left, and Quiyana Brown spend their days in a child-care center for the children of essential workers. The meals the Salvation Army delivers gives their mother, a single parent, extra time to spend with them.
In a classroom at a technical school that has been turned into a child-care center for the children of essential workers, Quiyana Brown and her older sibling Seiamari Utsey slowly assembled a puzzle. Quiyana had found a box of blue surgical gloves. As she fitted the jigsaw pieces together, the blue fingertips poked out longer than her hands.

Though she misses her friends, Quiyana knows that if she contracted the virus, she could infect her mother, a single parent, even if she didn't feel so sick herself. "I'm very scared for my mom," Quiyana said. "I think about my mom all the time."

During the day, her mother, Quesie Leone, processes records at a doctor's office. Overnight, she works at a hospital, in medical imaging. Between the two jobs and the time she tries to spend at home with her children, she sleeps only three or four hours. The prepared meals she receives from the Salvation Army give her a few extra, precious minutes with her children.

"I can throw it in there and let it bake," Ms. Leone, 34, said later, over the phone. "It will be ready for them so much faster than if I had to cook dinner."As they waved goodbye to the children, Lt.



Barker pressed her gloved hand against the glass of the car. Seiamari pressed back, a high-five through the window.
When the two lieutenants knocked at Sara Preece's trailer, the sound of barking came to the door before she did. That was Ally, Ms. Preece's service dog, a beagle-basset mix.
"I couldn't go to the hospital because they wouldn't let her in with me, and that would mean I have to be without her," Ms. Preece said. "I don't have kids, but she's my all and all. She's the love of my life right now."
In the summer, Ms. Preece brings Ally along as she rings a Salvation Army bell to collect donations at the Saratoga Race Course, which
normally opens in July
and attracts more than a million visitors a year. Now, without a car, a nearby bus line or the stamina to walk more than two miles to the nearest grocery store, Ms. Preece feels stranded. Even if she were able to get there, Ms. Preece, who is diabetic, would be at increased risk.
Sara Preece's husband loved to garden. When he died, she planted a heart in her front yard, in tribute.
The food deliveries have been a lifeline, and she also gets water. Ms. Preece, who grew up in Saratoga Springs, prefers drinking the sulfur-scented, mineralized spring water that filled the city's
famous baths
and made it a destination for health-seekers. So on their way here, the lieutenants stopped to fill milk jugs at one of several public spigots.
"It's the only water she will drink," said Lt. Smouse, her forearms taut as she carried brimming jugs back to the van. "So we bring it to her because we want to be sure she's drinking something."
When Ms. Preece's husband was dying two years ago, Lt. Smouse stayed with her. After he died, early one morning, she gently woke Ms. Preece to tell her the news. "They've already dropped off about four boxes of food," Ms. Preece said. "From groceries to the grave, they've been there."
The drive to their next stop took the lieutenants through the city. They passed enormous Victorian-style mansions, with expensive cars and manicured lawns, before pulling up at a motel just a few blocks away.
"If you were to look at the demographics, you'd say, 'Oh, the median household income is quite high,' " Lt. Barker said. "But you have extreme wealth and then extreme poverty, and there's really not much in between."
One of the motel doors had a sign, drawn on pink construction paper — the handiwork of 11-year-old Aydan, who is living with his family in the room behind it.

"All I hear is: 'Is it dinner time yet?' " said his mother, Kimberly. "It's hard to do really anything because we're all confined in here."

Kimberly asked that her surname not be used, to protect her family from a former partner. The family moved into the motel in February, after a mold infestation in their home. They hoped it would be an interim stop, but the crisis upended everything.

"We try to do things as normal as we can," she said. "People drive by here and they think it's Scumville. But it's really not that bad."

For now, it's comfortable, if cramped. In the room, she has only a microwave and a small pizza oven for cooking, and is afraid to go grocery shopping. The Salvation Army meals go a long way toward making dinnertime feel normal again.

"It's hard having two kids at home and trying to find something to do," she said. "Getting in the car to go to the store? We can't even do that."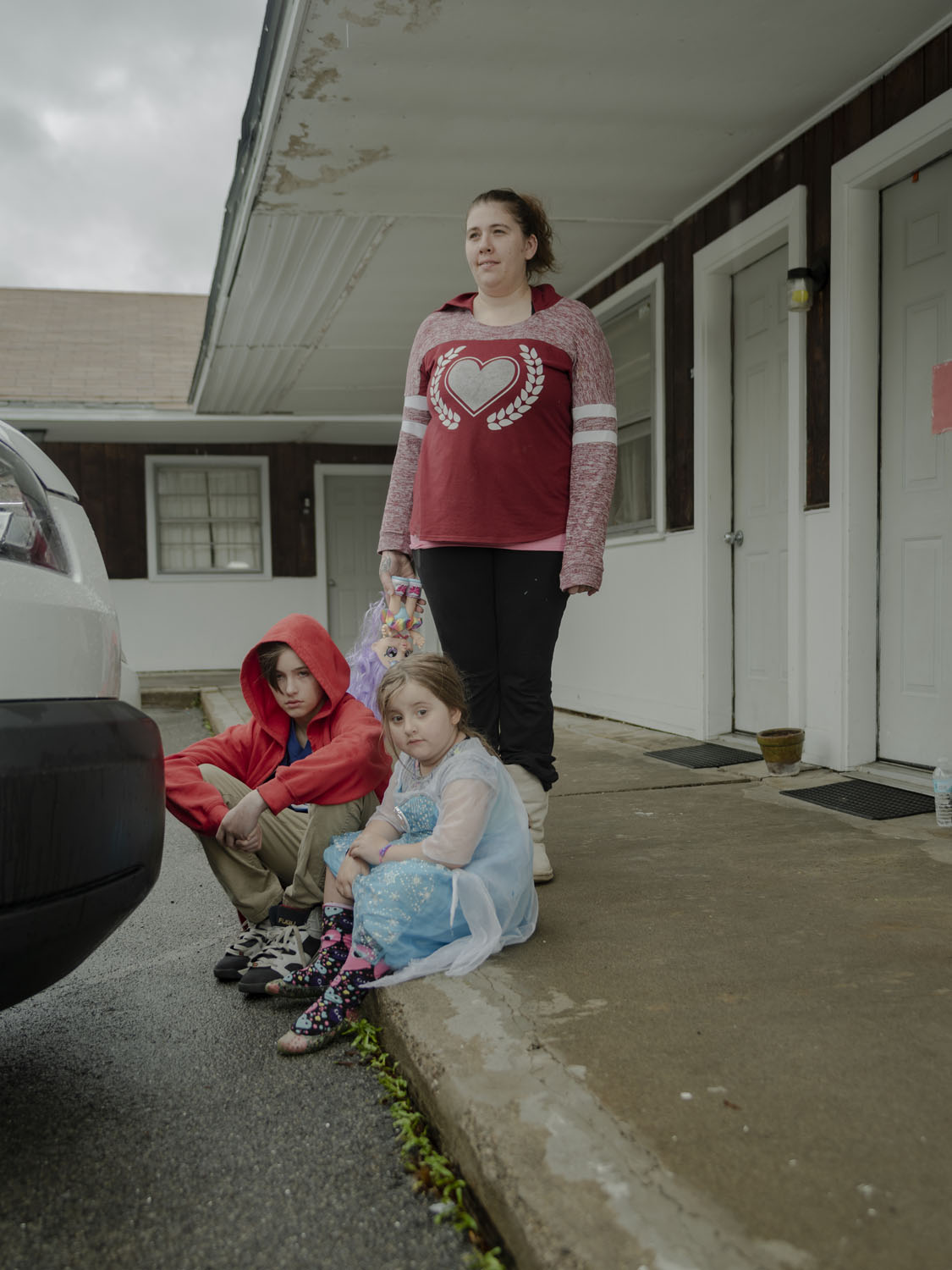 Kimberly has been living in a motel with her children, Halayna, 3, and Aydan, 11. "We were only supposed to be here for a little bit," she said. But the coronavirus has changed everything.
The final client of the day was Darlene Smith, who was waiting on her porch with her cat, Maurice, when the lieutenants pulled up. "Oh, I really appreciate this," said Ms. Smith, before asking them to put the box on a chair outside the sliding glass door. She disinfects everything that comes into her house.

"With so many places closing, my support system has completely shut down," she said. "They relieved all that. I don't have to go out as much, and I can depend on them just to be there." She paused to pet Maurice. "They are my first responders," she said.

Although Ms. Smith has asthma, an autoimmune disorder and limited mobility, she would zip around town on a red motorized scooter before the crisis, ringing a Salvation Army bell to ask for donations and picking up her own medications at the drugstore. Now, even her independence is not worth the risk. "I'm risking my health every time I go out," she said. "Life can be snuffed in a moment."
So she stays inside with Maurice, whose snoring is a comfort in the long nights alone. But although she is inside, she is not idle. Before Easter, she helped assemble baskets of candy that the Salvation Army distributed to families with children.

She makes herself meals from what the Salvation Army provides. "The box provides everything I need," she said, "but they give the added support, the love, the confidence for me to just go another day. There's a lot of love in that box."

Lt. Smouse, who had run around the corner to pick up cookies made by another senior who helped make the Easter baskets, stood in the rain, the box resting on her hip.
"We love you, Miss Darlene," she said. "We'll be back around soon."


Darlene Smith is used to being independent, traveling around town in her motorized scooter. Now, she relies on her faith and her Scripture to pass the long days alone.