Delivering mail in war-ravaged Ukraine: 'There are still people living here'


for the Washington Post

By Francesca Ebel and Kamila Hrabchuk - published on June 22, 2023
Mail carrier Natalia Hrinenko in front of a destroyed post office near Hulyaipole, Ukraine
HULYAIPOLE, Ukraine — The trio of Ukrainian postal workers — a mail carrier, a driver and a security guard — wait for a lull in the shelling before entering Hulyaipole, a small city near the front line where they often make deliveries under fire, zigzagging along bumpy lanes in their small white-and-yellow van. On one particularly hair-raising route,
between two neighboring towns, they say a quick prayer, slam the accelerator and race across a mile-long stretch of open road in front of Russian positions.
Clad in bulletproof vests, they make this dangerous journey three times a month, in line with a new wartime schedule organized by Ukraine's state postal service, Ukrposhta. They deliver not just letters and parcels but also pensions, groceries and medicine for the few residents — mostly destitute and elderly — who still live near Hulyaipole.
"Somebody has to do this job — and nobody wants to do it," said the mail carrier, Natalia Hrinenko.
Hrinenko, 55, was the head of Hulyaipole's post office until the building was bombed and rendered unusable in May of last year. Her branch used to have eight mail carriers. Now, there are two. "If God needs me to be in this place at this time, then it is to be," she said. "Anyway, how could I abandon it?"
Natalia Hrinenko's postal truck on the mail route lays just couple kilimeters away from the active front line on the South of Ukraine
The post service to Hulyaipole is emblematic of the countless improvised lifelines put in place over the 16 months since Russia's brutal invasion to help the hundreds of people who are hanging on and subsisting, cut off from larger cities, under desperate conditions near some of the war's fiercest fighting.
After months of relentless attacks, Hulyaipole has emptied out and shows signs of neglect. There is no electricity, water or gas service. Of the 12,000 people who once called it home, roughly 100 remain. Most are retirees — too old or too poor to leave — and dependent on the monthly payments brought to them by the mail carriers in cash, which average 3,000
hryvnia, or about $80.
For those who have fled, their pensions and regular mail are rerouted to a forwarding address, if they left one.
And if the postal workers cannot find a recipient, the mail is returned to the sender. (The only time Ukrposhta halted its operations was on Feb. 24, 2022, the day the invasion began, according to its press service. Regional schedules are updated regularly, taking into account the situation on the front.)
On Wednesday, the team set off from Ukrposhta's hub in the city of Zaporizhzhia, the regional capital about 65 miles away. Hrinenko tends to pick up bespoke requests along the way, and she tries her best to deliver. "Irka only wants Sumy Sausage. And I can't come empty-handed," she murmured as she handed over 20 hryvnia for 100 grams [about 3½ ounces] of sausage from a popular manufacturer in Kharkiv.
Lyudmila Panchenko, right, Iryna Berezovska, center, and Hrinenko sort mail at a temporary post office located in a room of a disused hospital in Hulyaipole after the town's post office was bombed
The mail truck then zipped past shattered houses, tank traps and fields of poppies and lavender before reaching Hulyaipole, which is located on the war's southern front, roughly three miles north of Russian positions.
With Ukraine's much-anticipated counteroffensive now underway, Hulyaipole is one of the most dangerous places in Ukraine, located along a crucial axis for the Ukrainian military as it pushes south in hopes of breaking what is known as the "land bridge" between Russia and occupied Crimea. In recent days, Ukraine has claimed minor gains, most recently with the liberation of Piatykhatky, a town about 40 miles west of Hulyaipole.
Many local post offices have been destroyed since the start of Russia's invasion, and the few mail carriers still working now operate from makeshift offices. These include the first floor of a disused hospital in Hulyaipole and an employee's front yard in a neighboring village, where envelopes get sorted among the chickens.
Inside the hospital, two women — Hrinenko's last remaining mail carriers — counted bank notes, completed paperwork and prepared invoices before delivering the pensions, which they do to nearby villages and towns on bicycles and motorbikes. "I am their head, and they are my legs," Hrinenko said.
One of the mail carriers, Lyudmila Panchenko, 53, nervously checked her watch: "You cannot tell for sure if you are safe," Panchenko said. "But where else would I go? There are still people living here, so we must continue working." Her monthly salary is almost the same as the meager pensions she delivers.
Mail carrier Natalia Hrinenko, foreground, was head of the Hulyaipole post office until it was bombed in May of last year.
Hulyaipole itself is ghostly quiet.
When Hrinenko arrived in Hulyaipole from Zaporizhzhia city on Wednesday, most of the residents had headed to bomb shelters because of an air raid warning. But while the streets were deserted aboveground, the local humanitarian hub, housed in a basement, was abuzz with activity. There were generators and hot water pumps for showers and washing machines, a mess hall where pensioners and men in military garb sat watching television as volunteers made coffee and prepared snacks. There was even a makeshift barbershop.
Svetlana Hura, 66, received her pension and favorite newspapers when Hrinenko and her team made their latest rounds.
With her own apartment destroyed by shelling, Hura now lives at a neighbor's house. She comes to the underground hub to watch TV and drink tea. "We are waiting for victory," she said, crying as she explained that her daughter is trapped beyond, in territory occupied by Russian forces.
Hrinenko, who has a wicked sense of humor and sports a pastel-pink bob and sapphire-blue eye shadow, was born in Lyubymivka, a village near Hulyaipole. She moved to the small city when she was 22 has worked for the post office ever since. She has a 35-year-old son, and lives with her boyfriend in Zaporizhzhia city, where she is now deputy head of the postal service for the region. She is one of thousands of Ukrainians working to maintain basic services through the war.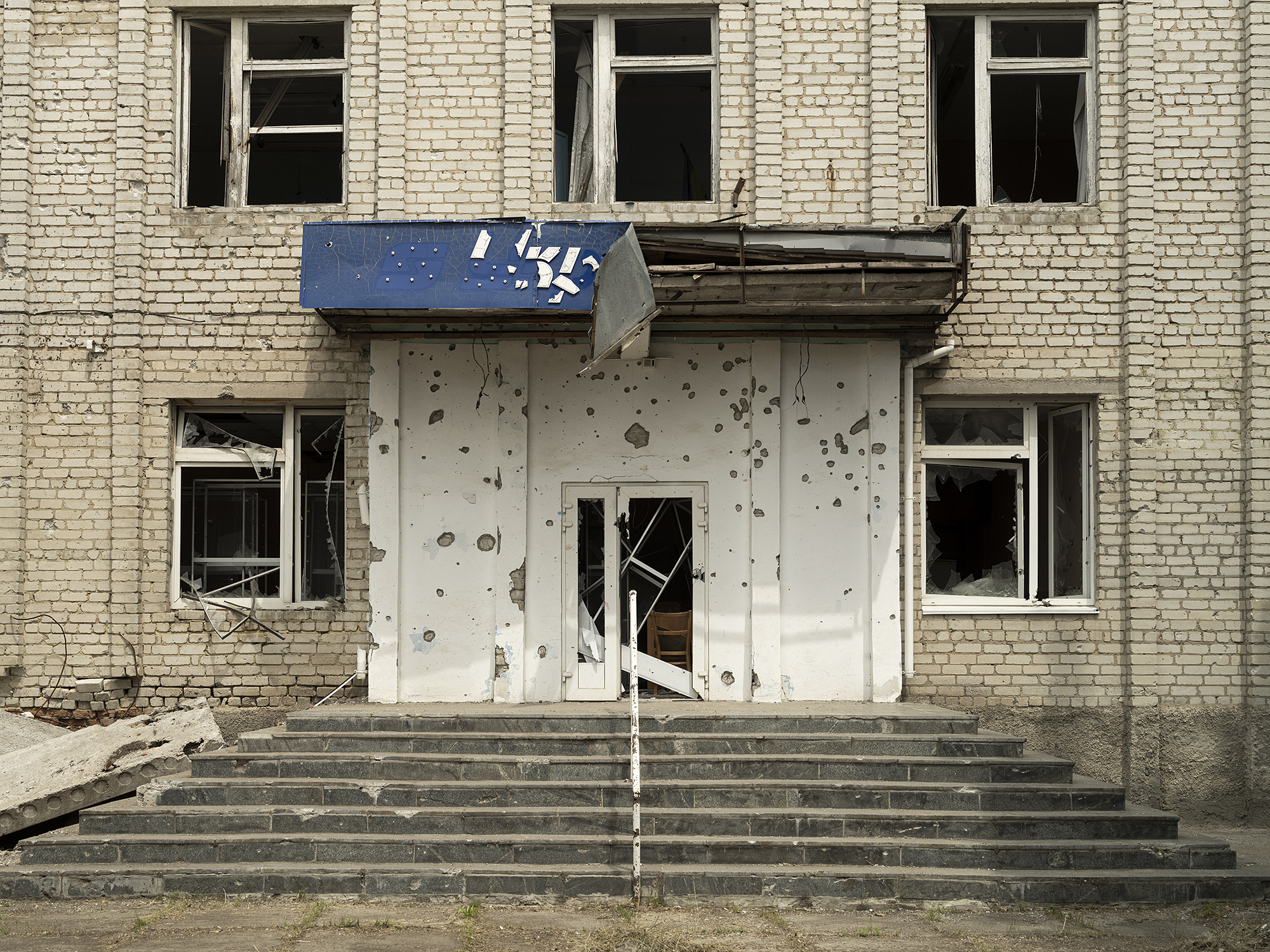 The Hulyaipole post office, which was heavily damaged by Russian shelling last year
While accompanied on her rounds, Hrinenko said she never stopped to consider if this was her responsibility.
"I had no time, I just said to myself: Let's go and do it," she said. At the beginning of the invasion, her team worked with a driver who was deaf and couldn't hear the sound of incoming bombs. "I told him, 'Go faster!' and he couldn't hear me!" Hrinenko said, laughing.
"At the start people were telling us we were crazy to go to such areas," said Konstantin, an ex-policeman who provides security for Hrinenko and whose last name The Washington Post is withholding for security reasons. "But now when we arrive, people tell us they are happy that we keep coming," he said.
He paused, contemplating his own view. "To be honest, due to our low salaries, this is more volunteering than a real job," he said. "These people need us and are waiting for us."
---