Yulia, from Zaporizhia, Azov battalion


During Maidan I thought that it's all nonsense, I didn't really care and tried to stay neutral and levelheaded. It all changed in February when they shot bunch of people – something broke inside of me.

And then the war started. First time I visited my boyfriend here at Azov. Couldn't stay calm at home, I just wasn't able to do the everyday stuff there when I knew what's going on here.

After that I came back home to Zaporizhia for a bit and returned here to stay. My friend thought I'm crazy, but of course they understood. Also it became clear who is your real friend and who was just hanging around…

What surprised me here the most is the amount of smart, well-educated people among the soldiers. People with multiple diplomas, speaking few languages and still came here to fight.

I wouldn't say that I'm scared. It was more scary when I was at home knowing what's happening at war rather than being here. You get used to things. Your perspectives change, your priorities change.
Volodymyr, Lviv
Aidar battalion

I came here from Maidan, been there since 8th of December. Went home few times for couple days but for the most part lived there during all the events. Was there for a while, first was waiting for Presidential elections, then for Parliament elections but then when I understood that nothing is gonna change there I decided to join Aidar. This battalion was appealing to me because most of the people who serve here came from Maidan, about eighty percent of soldiers.

I had no military experience. Prior to this, never served in the regular army. First we got here to Polovinkino; trained, shooting targets, all that and after then went on operations. So far I've taken part in 3 operations.

The most frightening thing is to see the dead comrades - that's very hard. You see just burned ashes sometimes that were left from a person, can't even recognize them…

Poetry helps me here. I started writing when I was 17, about love. Then only got back to it when I was at Maidan and I keep writing here…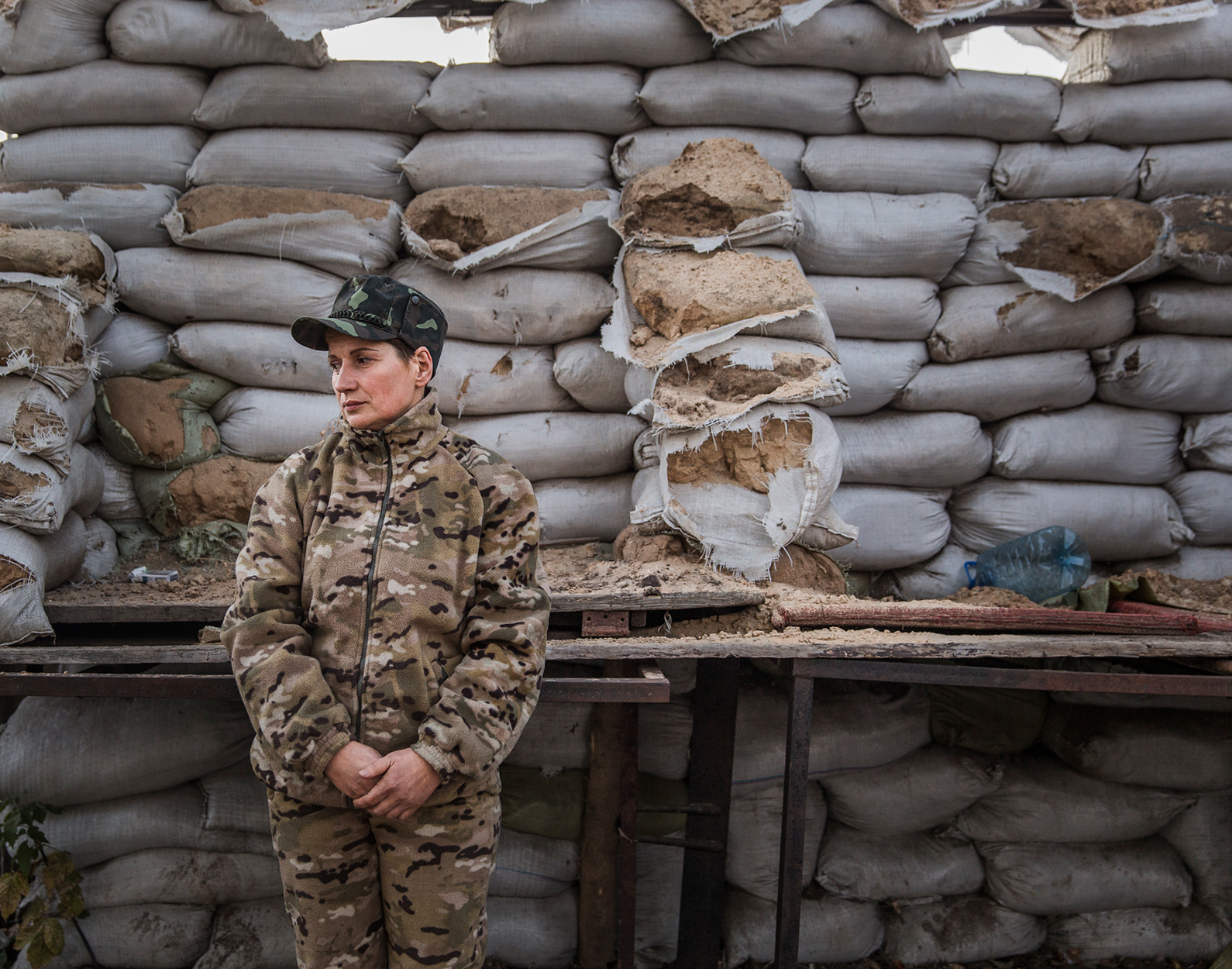 Lyudmila, Chernovtsy

Aidar battalion

I used to work at one of the Kyiv street markets, selling flowers. There were a lot of people there whose children were drafted into the army. Everybody cried and told terrible stories about the war. I have three grown-up children, two younger ones, and three grandchildren. That's why I decided to join the army myself, in their place. My sons have to stay and take care of their children. Besides, the young are so hot-tempered. If mothers did the whole fighting, the war might come to an end sooner. Young people haven't had proper training, they simply don't know anything, while we know a thing or two about life. While I was thinking it over, I received a call from Aidar. So I said yes.

I believe in God, I neither smoke nor drink alcohol. That's why I was appointed warehouse manager straightaway. My job is to order all the necessary supplies for the volunteer soldiers.


In reality everything is not so horrible as they might imagine in Kyiv. There are no dead bodies scattered around everywhere.


However, I do admit that nothing is more dreadful than seeing remains of your mates. It's horrible to see people who were alive when they were leaving the base, and now they come back as Cargo 200.

Another sad thing is when they lie to you and go back on their promises. After we have had so many people killed, they are telling us to retreat and surrender everything. As simple as that. Novosvetlovka, Khryashchevate, Metallist… Now we have the same situation with Shchastya. What is going to happen next? Surrender the whole Ukraine?

I have been to Kyiv several times since I joined Aidar. It is like visiting a different planet. No wonder that our government fails to take the right decisions. If they came here in person, they would start thinking in a different way. Even though I am here, I hate war. Even when children play with toy guns. I have always believed that everything can be solved in a peaceful way. Now I see that it's not always the case.
Vyacheslav, Kharkiv
Ukrainian Volunteer Corps (Right Sector)

I joined the struggle for Ukraine right after the first shootings on Maidan. I became member of the most active group - 14th Sotnya of Self-Defense. After the victory of Maidan I came back to Kharkiv, my home town, where things were starting to get rather hot. There I joined the local self-defense unit. Do you remember the episode with a guy badly kicked by a lady next to the underground station? He was a friend of mine. In the course of that rally I also received a slight concussion. Thanks God, I had my helmet on.

First I went to the frontline as a volunteer bringing food and other supplies. I was in Slavyansk, Shchastya, and on Karachun mount. I sent my application to the army enlistment office three times. However, despite the good training I received during my military service, they wouldn't take me because of my previous conviction, which I had served long ago. But I just didn't feel right when I saw twenty-year-old girls with machine-guns and bullet-proof jackets going to the frontline, whereas I did nothing but bring them some cookies.



So, I decided to join the actual fight myself. I got enrolled in Kupol subdivision of Donbass Battalion. We fought in Artyomosk, Popasna, Kurakhovo, and from there we got to Ilovaysk. They told us to clean up Krasnoarmeysk that had already been taken, but we found ourselves in sheer hell. We spent twenty-four hours circling around Ilovaysk without food or ammunition. The things were pretty bad there… to put it mildly. It looked as if somebody was working against us.

That's why I decided to transfer to Ukrainian Volunteer Corps. Here they do value their soldiers.

The only thing I have received during my service in Donbass is a paper certificate. The fellows who were wounded received 5,000 UAH each. As you can see, it isn't the material values that I am looking for. I just want my country to be strong and united. I want my son to live in a democratic society with normal laws. He is now 6 years and 8 months old and has started school this year. I don't want this infection spread over the whole country. That is the reason why we go to the frontline.

Paliy, Kharkiv
Azov battalion

If was after the shooting in Institutska in February that I realized that I could not keep indifferent. When the whole situation with the Crimea began, I started to look for some force I could join. There weren't many options, and Azov turned out to be the most appropriate. In fact, this name appeared much later. We were called "little black men" then. I've known Biletsky for many years, as we are both from Kharkiv. And I chose this battalion solely due to Biletskiy's personal features. He might take offense, but I do think that our commander is like a child. He believes in good causes, trusts people, and takes it to heart when we have conflicts among ourselves.

The only military experience I've had was the Soviet army. However, we trained a lot at our bases, and that was the reason, perhaps, why none of us was killed during the raid on Mariupol. I was operating a machine-gun in that raid and covered the offense of our unit in that much-spoken about Kamaz truck.

When I now come to Kyiv where I have been living in recent years, everything there irritates me. The life there seems


somewhat unreal. It is here that the real life happens. Everything is clearer, faster and free from unnecessary details. There are no halftones. Only the feeling of freedom.

The most unexpected thing about the war was my own reaction to danger. I can't remember a single moment when I felt scared. Amazing as it may seem, I have no fear. I am just trying to do my best. There might be some physiological trick here. However, I do feel concerned about my brother, whom I encouraged to join Azov as well.

I am divorced with five children. The eldest daughter is twelve, and the youngest is three. They are too small to understand where I am and what is really happening.

I haven't made any plans for the future after the war. My head and my arms are still with me. I'll think about it when everything is over. And I am pretty sure that everything will end up in Moscow. Not because I want it, but because this looks pretty much inevitable. Russia is facing a major collapse, and so are the illusions of its citizens. Actually, I feel very sorry for them.
Tanya Dyka, Vinnytsa
Vinnytsya field hospital

I volunteered after I saw an announcement in the hospital where I worked as a nurse. It said that volunteers were wanted for a field hospital. At first I thought it would be too hard for me both emotionally and physically. My two years of experience didn't seem enough for what it would take. However, this idea haunted me that whole day, and finally I called my mom and told her that I wanted to go. She knew better than to try to talk me out of this decision, and she just told me to have a world with my father. He said nothing except that I must be crazy to leave the comfort of the home. So, the next day I submitted my application, and one day later they sent me a draft notice. I found myself in a military hospital and ten days later they sent me here.

I am very lucky with my parents. They support all my initiatives and never beg me to come back home, as many other parents do. They would always say that they are fully aware that I am here for the sake of the worthy cause. And it's true. The experience I get here is invaluable, as some the best doctors of our region are working here. It's a great honor to work side by side with them in the intensive care department.


In my previous job I didn't really feel that I was needed, whereas now I can see that my skills are required. This seems to be the reason why I wanted to come here and why I don't want to leave.

I thought that I was going to the battlefield with dead bodies and limbs torn off. I thought that I would only get something to eat no more than once a week and call my parents once a month. In fact, it's almost like a resort. The conditions are certainly far from being comfortable, but bearable enough for the sake of those guys who come here for treatment. None of them cries or gets hysterical after major operations, and even amputations. When they are told about the rehabilitation time, what scares them most is not the disability or forthcoming suffering, but rather the separation from their fellow soldiers. So, it is really worth staying here for the sake of such people.

Looking backwards, I can say that nothing seems extremely terrifying: neither the vicinity of the frontline, nor the shelling of the hospital in Orekhovo, nor the two and a half days of non-stop operations. It was only once that I got really frustrated - when I found out that a 19-year-old chap from Aidar, whom we virtually got back from the dead, finally died in a hospital in Kharkiv. They failed to save him.
Nachkar, Kyiv
Aidar battalion

There is a saying - if you're afraid of the wolves don't go into the forest. But if the wolf comes to you, what else you got to do?

We are not alright with the idea that someone grabs our land, tramples our dignity. All we want - is that our families, our citizens live together in one unified successful and free country. In my opinion if you are a conscious person and someone comes and takes your land away, takes your family away you have to stand up and defend your family and your territory. I'm just one of those people. There is no second option for me.

For us cossacks the main value in life is freedom. And we are not gonna give our freedom away.



Bimba, Kherson
Aidar battalion


I don't have family, don't have kids. Some people have attachments, someone needs to study, or raise kids - those people might need to stay behind. I understood that I needed to be here, I'm more useful here.

Scariest part of this all is when there are coffins lined up right here. We don't even open them, because inside there is nothing to look at anymore usually. That's the scariest part.

Sasha, Kherson
Aidar battalion

I am a common guy and there wasn't anything special behind my decision to go to war. I am just doing my duty as a man – protecting my motherland. I don't want our country taken from us, as it happened in the Crimea.

I chose Aidar because it is the only volunteer battalion that is subject solely to the army authorities, rather than the police. This factor attracted me most.

By the way, I hadn't done military service before, so I had to learn everything here on location. I should admit that I felt a bit scared at first, but then I got used to everything.

I've spent the last two weeks at the power station in Shchastya. I can't say it is extremely scary there… Just very nervous. You have to be constantly on your guard, which wears you down. But apart from that, everything is fine.

The most dreadful thing is to find yourself in a situation where they are shooting at you and you are helpless. You just see one fellow soldier shot dead, followed by a second, and then a third… That was the case in Novosvetlovka, where we were shelled by artillery. And in many other places as well.

At first my family was in the dark about my whereabouts. I told them that I was going away to work. Now they know everything, of course. They shouted at me, demanded that I come back home. It was no good, though. I am not going to leave this place. Anyway, I will take my 10-day leave to go home and have a good sleep, only to come back here again.

Udav (Python), Kyiv
Ukrainian Volunteer Corps (Right Sector)

Before the war I was a just young man with two Masters and Bachelor degrees, who did not care much about politics. At the height of the hostilities I joined the Right Sector and went to the war. I just came to understand that nothing would be fine until the stability in the country was achieved. Business and family life – everything would collapse. It's not worth even trying.

I have always been skeptical about public organizations and political parties, so I used to come to Maidan alone. Then I decided to join the Right Sector – it seems they are doing the right thing.

As I hadn't had any military training, I had to learn everything in process. I try to keep inner detachment from everything happening around so that I don't go mad. I do not lose awareness of the surrounding, but I try to stay a bit aloof, as if it were a nightmare. When I return home, everybody looks at me as if I've come from ordinary work, which I think is good. Too many guys have lost their minds because of the war.

My parents accepted my decision. We are all aware of the risk I am taking, but it's no good waiting until the war comes to your doorstep. So, I went away to stop it.



On the 5th of October I got wounded in Donetsk Airport. I was going with my fellow-soldiers in the first APC. Suddenly we came under fire and two my friends fell to the ground. I managed to come running to my other mates when I realized that both of my legs are shot through. I ended up with one shrapnel and three perforating bullet wounds. However, I came back to the base right after the operation, hoping that they would find my friends, but unfortunately, it didn't happen.

I might as well return now to Kyiv and use my legal opportunity to take a job abroad, but instead I choose to stay here. I am not striving for higher salary or rewards. What I want is a united country. The country which we inherited from our forefathers and which has suffered too much to achieve its independence. If I now give up everything and run away like a whipped puppy, I will feel ashamed till the end of my days. I don't want my future children to think of me as a coward who left his country in the time of trouble.
Ivan Zhuravlyov, Cherkassy
the National Guard

When the Crimea was virtually taken from us and when it became clear that Luhansk and Donetsk were next to follow, I got enrolled to the second battalion of the National Guard. After some training in Novy Petrovtsy, they sent us to Slavyansk where we spent almost 40 days working at the road block stations, in Bylbasovka, and near Slavkurort. We were among the first who entered the liberated town and hoisted the flag on the local administration building. It was very surprising to see people coming to us and saying thank you. Some of them even reproached us for not liberating them for so long. We didn't expect this attitude, as it was very different from what we had been told.

Then we had a rotation. After we came home, they sent us to the first battalion, but we decided to join the armed forces instead. My friends and I ended up in the 42nd battalion of anti-terrorist defense. They told us to go to the direction of Saur-Mohyla and hold out there for two or three days until replacement.



However, two, three, four days passed, and nobody came to replace us. We watched everybody retreating, while we received an order to keep our position. We found ourselves in the face of constant shelling and tank attacks. There was practically no time or opportunity to get some sleep.

On the seventh day we almost ran out of water and ammunition. Several people, including me, were wounded, but we had no other choice but to keep on fighting. Timur Yuldashev was among us. Although his eyesight was badly damaged, he kept on fighting relying only in his hearing. Finally, we decided to retreat, when a civilian car managed to get through to us to take away the wounded, including me.

We understood that they wouldn't let the car back, but on the other hand, the rest of the unit wouldn't be able to retreat together with the wounded. So, we decided to take the risk. That was a hard trip indeed. Suddenly, a BTR appeared on the road right in front of us, and the last thing I remember was that we were all thrown out of the car. When I came round I understood that they were beating and frisking us. They took me prisoner and killed the others.



I was put into a car and taken somewhere in the direction of Donetsk. Once they stopped to dress the wounds. First, they brought me the building of National Security Service, then to hospital, where they stitched me up, and after that back to the first building. When I still had my stitches on, they didn't interrogate me, but after the sutures were removed, the interrogation began. They would beat and torture me all every day during the whole month. Four weeks. After that they exchanged me for somebody else apparently. They told me that I was sentenced to be shot. It was only when I saw some journalists and people from OSCE, that there appeared some hope.

However, being prisoner is nothing compared to the terrible feeling when you know that my friends are still there and I can't help feeling guilty about it.

I am a common man and I wanted to protect my country. I didn't want the Crimean scenario to repeat in Luhansk and Donetsk. I didn't want the war to happen in my country. I haven't thought about my future life yet. If I am still capable of military service, I will back to war.
Olena Bilozerska, Kyiv
Ukrainian Volunteer Corps (Praviy Sector)


I got tired of idle talks already at the time of Maidan. I was there from the first to the last day, but solely as a journalist. Once, at some critical moment of clashes I realized that I won't remain a mere observer if something like that happened again. And so it did. All of my friends from the Right Sector knew that we would go to war. So did I. I went there in late April and it's only now that I have come back to Kyiv since then. The thing is that I was appointed for the election. But once it is over, I will go straight back there.

I didn't start fighting at once. We bode our time at the bases waiting for legalization and ammunition. However, our authorities were reluctant to do that, so we had to find weapons by any means possible. It was only in June that we finally got an opportunity to equip a group for a reconnaissance raid. That was my first battlefield experience.

Then I took part in battles near Karlovka, Avdeevka, Peski and Saur Mohyla. The only place I didn't end up fighting t was the Donetsk Airport. They wouldn't let me. There has never been any distinction between men and women in the Right Sector. We have very few people and very little ammunition. I have my own weapon and I know how to shoot.



However, my general fitness level is very low, and it is a problem indeed. I am the only person who doesn't wear a bullet-proof jacket during the battle, as it's too heavy for me. Running in full ammunition on par with men is hard. Yes, I did receive some training, but when you weigh 50 kilos yourself and you are carrying a just as much everything doesn't come as easy as you want.

Waiting for a battle is far more terrible than the battle itself with all the wounded and killed in action. When I get to know in the evening that we would have a raid in the morning, I get seized with fear. A nasty feeling which keeps me half awake during the whole night. But when you finally set off this fear vanishes in thin air. And after the fight you feel relaxed and satisfied like never before.

It seems to me that I haven't changed a bit. When I left Donbass, I forgot about the war already in Dnipropetrovsk and loud noises don't make me shudder.

I guess this is going to be a long war that will last for several years. That's why I will go back there right after the election. Guerrilla war is something that I like and I am good at.
Bohdana, Poltava
Aidar battalion

My father was the first in our family who volunteered to join Aidar. As I hardly participated in Maidan in Kyiv, but I decided that I would do my bit now, during the war. It all started in early summer when I began coming here on a regular basis as a volunteer. I would get into my car and bring food, medicine, clothes. At some point I decided to stay, although it meant leaving my job, studies, as well as my mother and my niece that needs care.

It's rather flattering to be one of very few girls here. Everybody treats you like a sister that has be protected and helped. They would sacrifice for my sake – and for the sake of any other woman in my place – their vest, or helmet, or even their lives, if necessary. From this perspective, the absence of hot water, decent toilets and warm radiators doesn't mean much. A mere trifle.

I don't take part in actual fighting, and they won't let me go to the frontline with parcels. So I have nothing to be afraid of. Except for shelling maybe. Anyway, you get used to that quickly.

After I started coming here, my former friends somehow disappeared without any effort on my part. All they can think of is where to have fun, how to earn money and buy more things, while I think about where to find money for boots and medicine for my boys. Our interests and aspirations have diverged immensely. Instead, I have new concerns to think about. Those connected with the war
.
Mikael Skillt, Sweden
Azov battalion
I came to Ukraine for the sake of Maidan, rather than the war. I was planning to help some young guys from "Sich" organization, who were somehow related to Svoboda party, to fight corruption. I wanted to help Ukraine to change for the better. I don't mean to say that it's a bad country. The problem lies in the corrupt government which has long served the Kremlin. However, I was several days late. Maidan was over, followed by the dramatic developments in the Crimea and in the East. So, I decided to stay. It took me a long time to choose a battalion which would have values that are close to mine. I chose Azov in the end, because of its nationalist beliefs, which in my understanding means taking care of people.

I came to Ukraine with a personal gun, supposing that I might need it for self-defense. I didn't expect to find myself in the middle of the war with tanks shooting around. I had had some military experience before – I had been with the Swedish National Guard for a long time before I ended up in civil engineering business. So, my previous military experience came in handy here. I started to train soldiers in Mariupol, without understanding a single word either in Russian or Ukrainian. I can now understand a little, but I still can't speak.



Together with Azov I've been to Mariupol, Mariinka, Shyrokino, Novoazovsk, and of course Ilovaysk. The latter was fucking bad. I don't know Ukrainain reality very well, but I can tell you that in Sweden top military authorities are trainedfor years, which I suspect is not the case in Ukraine. At least, judging from what I saw there with my own eyes...

After a while you get used to the war and its hardships. Even to the fact that people are being killed, and you simply can't afford to feel sorry for them, because you have to move on, achieving new goals to make sure that no more people are killed. The only thing which I fail to get used to is the way how Ukrainians refuse to give up their hopes. For instance, we arrive in a bombed out town, and I can't help thinking, "Oh, my God!", whereas the local elderly people believe that the war will soon be over, their houses will be restored and everything will be fine.

If it happens this way and I live long enough to see that, I'll get married. My fiancée is from Kyiv. I had met her long before Azov, so she's been waiting for me for six months already.
Bes (Demon), Kyiv
Ukrainian Volunteer Corps, (Right Sector)

My nickname - Demon - I got when I was in the third grade. My dad then forbid me to fight with other kids. And one day he gave me some money to buy new football cleats, one of my classmates found out and bunch of kids from my class beat me up, stole my money. When I got back home and told what happened to my dad he said - well, in that case you need to fight back, you're a man. So next day I tripped a piece of wood from a bench, then caught them one by one and beat the shit out of each of them. From that time people been calling me that.

Then I was involved with football hooligans, first started with Dynamo Kyiv and then joined CSKA Kyiv group. Travelled around a lot and took part in many riots. Interesting thing is there are few hools from Russia and Belarus here now fighting on the side of Ukraine because they are against Putin. So that's the people I used to fight against at games, now they are here fighting on the same side with me.

My father and I now are also in a real war. He is very disapproving of me being here, he used to be in a Communist party and we have major ideological differences. My mom, on the other side is understanding. She took part in Maidan actively, She was tortured in Brovary by local cops during all those events, barely made it alive.

This war began for me when there were flags of the foreign countries being put up on my land. I instantly made my decision. For me Ukraine is one country, without any alternatives. We don't need EU, we don't need Russia. You understand, if we win this war we can serve as an example to the whole Europe.

I served in Army for 2 years. The war itself is of course little different from the service but it helps. I am grenade-launcher operator, mostly involved in sabotage operations. The most recent battle was the hardest - we were going to storm the heights near the Donetsk Airport - our mission was to take one point and to defend the people who are now sitting at the airport.



And on our way there we were shot at from behind - a grenade launcher got our APC and it was just about 400 meters from the separatists check-point near Spartak. And as we are sitting under fire I get a text message on my cell - "Welcome to Russian Federation, if you have any problems please find the nearest Russian Embassy' The Russians are already installing their networks on the cell towers in Donetsk… We were shooting back for some time, then retrieved into the woods and some of our guys were panicking. Someone yelled 'We're fucked, we're fucked'. And I tried to calm him down and explain said - 'We're gonna be fucked when we are in the body bags on our way home. Now we are fine'. We joked around, I gave people some chocolate. The separatists were pressing down on us from one side but our guys made it through from another and rescued us. All of us except two. One was shot and one was captured.
Nikolay, Kyiv
the National Guard
Before I joined the National Guard I was in the 16th Sotnya of Maidan Self-Defense. Before the revolution I had been a common businessman from Kyiv. I am divorced. My daughter is a student at Kyiv-Mohyla academy, and my son is in Suvorov military school.

I did my military service where I received good training, and before sending us to the East, they prepared us really well. My battalion was sent to Slavyansk. We all knew what we were fighting for. To protect our homeland. When you are there, you stop being afraid of danger and death. The only thing you dread is treason on the part of your commandment. This is what you are most afraid of.

However, I didn't fight for a long time. I got wounded May 29th, on the same day when the helicopter with general Kulchitsky was shot down. We saw it explode and we all screamed in terror. He was a real battlefield general, whose arrival was much awaited by everybody.

He looked like a real officer, smelling of expensive cologne. He would embrace us in spite of our sweat and dirt. If all the commanders were like him, we would have won the war a long time ago.

When we were removing the bodies we ran across something. When I came round, I couldn't feel my limbs. It turned out to be a major fracture of a neck-bone. Those five months in hospital proved to be more dreadful than the time spent fighting. Everything in the battlefield used to be clear and well-organized. I felt that I was needed there and here you just lie in bed as a vegetable only to see new guys being brought in. As soon as I could move and stand up, I started help my ward-mates.

I was neither abandoned nor forgotten after I got wounded. The money I used to get during the first period of my service was mere chicken feed, but when I ended up in hospital, they paid me for my battle experience, as well as sick leave and treatment. The battalion commandment paid me a personal visit. So far I can't jump, even from the chair, but once I get well I will go straight back.