Honorably Deported
Immigrants have been in the ranks of various branches of the U.S. Military since the Revolutionary War. And historically it has been a common path for many immigrants to come to this country to obtain their citizenship or to get a foothold in the United States through serving in the military.

If you go to any recruitment office today and say you are an immigrant most likely you will be presented with a picture of a bright future after your service, which will include citizenship. The same promises were made to all of the veterans who later found themselves in an unimaginable situation: being deported from the country they served. Some thought the citizenship would come automatically with military service. Some claim they were naturalized during their military service but don't have the means to prove it now.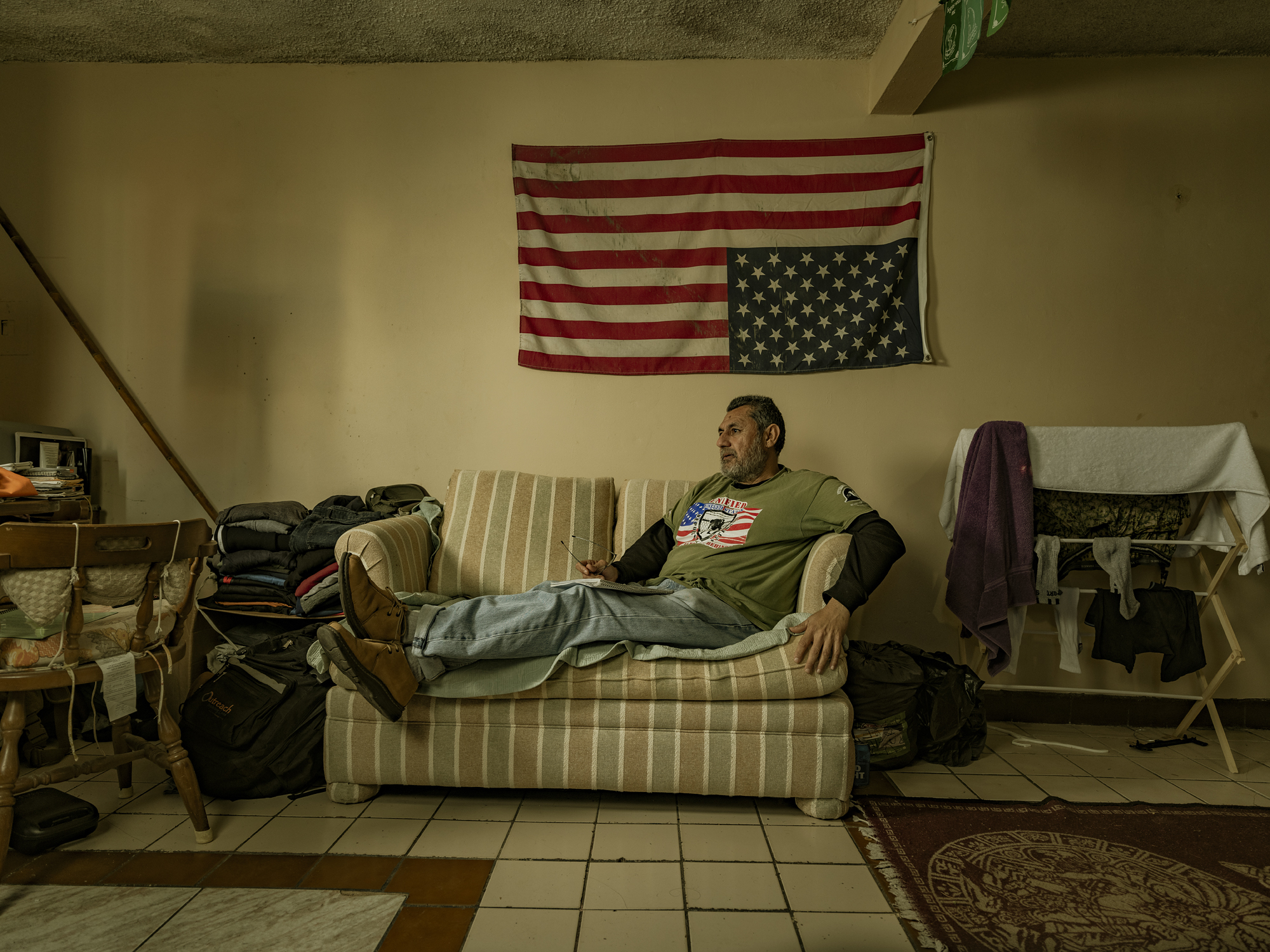 Felix Peralta Junior, Army Veteran, deported 19 years ago for assault on a police officer
I'm in distress. Help me. Take me back, yeah, I messed up but I did my time. I always worked. Give me a chance to go back, I'll keep working, I'm older, I'm wiser, my kids are grown up. Help me. I just want to go see a Dodgers game. I just wanna go see the Dodgers play. Let me come back.
Until 1996 there hasn't been any record of veterans being deported from the United States. After Congress passed new immigration laws in 1996 and expanded the list of offences which made non-citizens eligible for deportation, some veterans fell victim to these new laws. Before 1996, the immigration judges had greater power to be lenient to some groups including veterans and could stop the deportation procedures. However, after the passing of these new immigration laws, once the deportation process has started there was almost no legal leeway for the person to stay in the United States, including those who have served.
With the creation of Homeland Security in 2002 and forming of U.S. Immigration and Customs Enforcement (ICE) in 2003, the situation for the veterans who have committed any crime that fell under the "aggravated felony" category had worsened as the total number of removals has grown.

Realizing they were deporting veterans, ICE has created guidelines in place regarding those who served in the U.S. Military. Those policies were meant to ensure that immigration enforcement officials take into consideration the military service of noncitizen veterans facing deportation. However, the Government Accountability Office (GAO) report found that it "did not consistently follow its policies involving veterans who were placed in removal proceedings."

According to the limited data provided by ICE, approximately 250 veterans were placed in deportation proceedings from 2013 through 2018, and 92 had been removed from the country, though this number is most likely much higher. GAO established that others might have gone unaccounted for because of ICE's failure to track them. Eighty-five per cent of deported veterans were legal permanent residents and 26 attempted to gain citizenship, according to the GAO report.
Mario Rangel, Army Veteran, deported 12 years ago for felony drug possession

I don't want anybody to feel sorry for us. I really don't. We're all men. We're all responsible. We don't want to be going to the US and be a burden to nobody. We just want another chance. Most of us have paid for our mistakes. Most of us know what we did wrong. And most of us know what we need to do to become a part of the community again, to be able to offer something, to be that guy again, that veteran, that patriot and not to be a bad guy. Cause some of us don't want to be a bad guy any more. Some of us never wanted to be that bad guy, but just were put in the situation. We're asking for a chance to be a good guy again.
For those veterans who are facing deportation, it is often the final blow to a long and arduous journey of previous mistakes and misfortunes. Many of them have suffered from PTSD-related issues, drug and alcohol abuse prior to their arrest and incarceration, and by the time they are approached by ICE, most often during their prison term, it might seem things can't possibly get any worse. They're proved wrong once again.

It is easy to draw a line, and the proponents of existing immigration laws often do so if you break the law, you get deported. Unfortunately, it's not that simple and the system fails the people it's deporting a few times before this final and often irreversible sentence of deportation. Often they mislead with promises of citizenship, are unable to provide help for post-service illnesses and fail to confront other life-changing conditions that come as a consequence of military service.

Undoubtedly, the veterans who have been deported have had opportunities to obtain citizenship. Some of them have postponed naturalization, some were in the process and a few were under the impression that they were already naturalized. Partially, the confusion comes from simply not understanding the process of naturalization and not knowing immigration laws.
Alex Murillo (Pony), US Navy Veteran, deported 8 years ago for federal trafficking of marijuana

I do have fond memories of being in the military, but also very painful memories. Separation from my family and just hardships. But a lot of good stuff as well. I got to see the world. I made my family proud and served my country as any normal American kid. I don't come from a rich family, but from a middle, lower-class family, like many military kids, many, many kids that go into the military come from where I come from. You know, that's why I can relate with middle-class America, because that's me.
And partially it comes from a false assumption that if you have served in the military you will not be deported. Most of the veterans that were interviewed for this article were under the impression that they were untouchable by immigration officials because of their military service. Some laughed the first time they heard that they might be deported.

When you serve in US Military you travel the World and operate under different rules. You disembark in ports and step off on a foreign soil wearing a uniform and under the American flag, de-facto you are an American. Before that you have sworn-in to protect the constitution, you pledged allegiance to the country and its people. It's hard to shake off that mindset once the service is over and you return to civilian life. Mentally, a vast majority of the veterans that have been deported never did.

The most common convictions that started deportation procedures were related to substance abuse, drug offences or violence. More than a half veterans that enter into the justice system in the United State have had mental issues including PTSD and depression and deported veterans are no exception.
Andres De Leon, Vietnam Veteran, deported 8 years ago for felony drug possession

I didn't get a break. It wasn't fair and I felt cheated. But I have to make it manageable to survive, prolong my life as much as I can. I have no choice.
Once veterans are deported to their country of origin it is significantly harder for them to access the VA benefits, impossible to get any medical treatment under VA, they are left to their own devices in often unfamiliar surroundings. In many instances they are ostracized by the x communities they end up in and are treated as outsiders.

Common issues include not being able to find housing, acquire basic living necessities, inability to socialize in a new environment and not having access to medical care. Drug cartels keep track of deported veterans and reportedly recruit them to train their soldiers. The language of violence and terror is prevalent in places where these veterans end up and the cartels easily take advantage.
Edwin Salgado, Iraq War veteran, deported 10 years ago for drugs and weapons charge

I don't feel any anger or resentment. It's a bit complicated because I know that if I would have not joined the Marine Corps, I probably wouldn't have gotten PTSD. If I didn't have PTSD, I probably wouldn't have turned to self-medication. But then again, I'm grateful that I joined the Marine Corps and I learned all these things that have saved my life so many times. It taught me how to adapt and overcome and there were things in my life I wouldn't have been able to deal with if I hadn't joined the Marine Corps. So at the end, I don't have any anger, or at least I haven't discovered it yet.
There are self-organized groups that provide support for deported veterans, such as the Unified U.S. Deported Veterans-Resource Center "Playas Barracks" and the Deported Veterans Support House known as "the Bunker". Organizations like these provide emotional and legal support to veterans that have been deported and help them settle into their new environment. Additionally, they provide support and resources to fight for their legal status, to come back to the United States.

The Bunker was formerly led by Hector Barajas who was a deported veteran himself and was pardoned after 13 years by the California Governor Jerry Brown. Essentially, without any laws put in place for the deported veterans being pardoned is the only legal way to go back to the United States.

The greatest irony, of course, is that all these veterans do have the final right to come back to the United States for their burial. The government will pay up to $300 for the transportation of the body and will give them a funeral with all honors and a folded flag. As it stands, that's nearly the only way to come back home for those who have fought and put their lives on the line for the United States of America.
Ruben Robles, Cold War veteran, deported 22 years ago for armed robbery

It's a very ugly punishment. Very un- just. Even though I have lived here for so long I don't feel like I belong here. But at this point I lost so much that I don't care to go back.